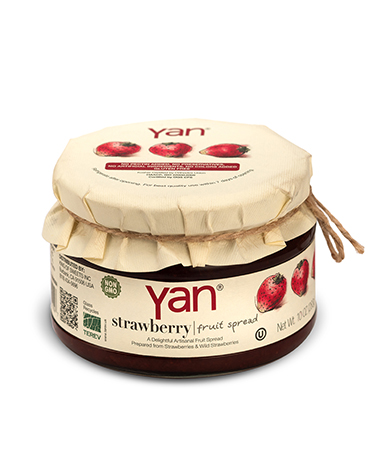 100% Natural Ingredients
Only from Hand-Harvested, Fresh Berries
No Pectin Added
Kosher Certified by Orthodox Union
GMO Free, Gluten Free, Vegan
No artificial ingredients, no preservatives
No colors added
Glass Jar – BPA, BPS & DEHP FreeEach jar of this 100% natural Strawberry Spread is filled with finest wild strawberries that create a perfect texture and a brilliant flavor. Every single berry is hand picked and prepared in an old artisanal way. With its firm texture this preserve is similar to a jam, but because of the high fruit and less sugar content we call it "spread". Its intensity is due to the fact that it is made with a traditional recipe implying that no pectin is added: the natural pectin in the fruit is let to do the work.This Strawberry Spread is a delicious complement to baking and cooking recipes. It is a perfect topping for bread, toast, scones and waffles and a good ingredient in muffins, cookies, pies and cakes. With its sweetness it can elevate the flavor of cheeses like Brie, Goat and Cream cheese. It is also a bright addition to yogurt, ice cream, oatmeal, or even salad dressings.