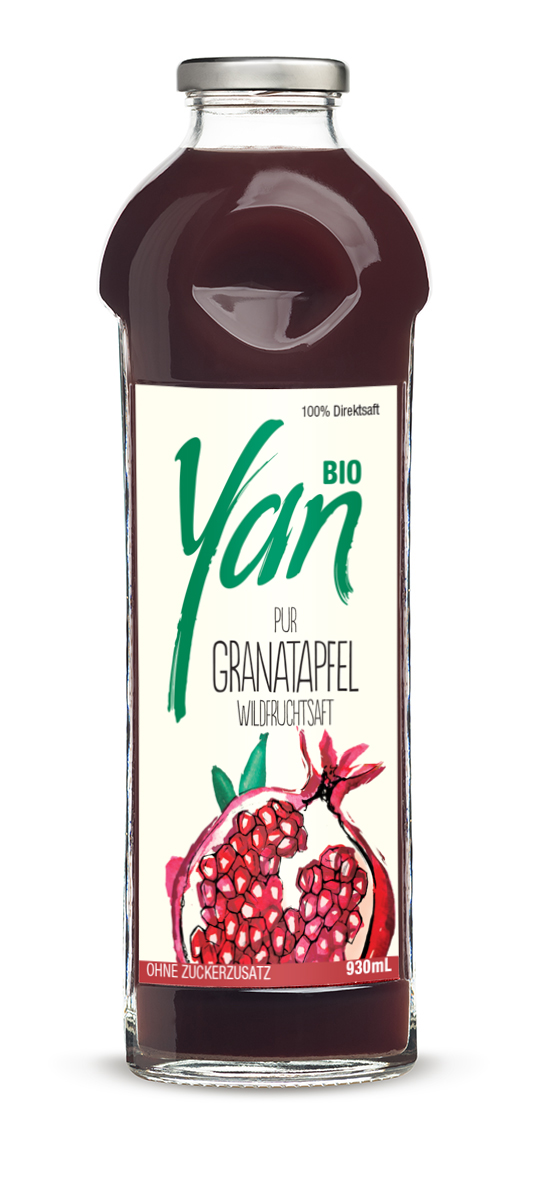 100% Pure Pomegranate Juice
14-16 Pomegranates in Every Bottle
Made from Wild Grown Pomegranates
Cold Pressed – Not From Concentrate
Certified BIO
Kosher Certified by Orthodox Union
GMO Free, Gluten Free, Vegan
No artificial ingredients, No preservatives
Unsweetened – No Sugar Added
Glass Bottle – BPA, BPS & DEHP Free
YAN Pomegranate Juice is made from wild grown, organic pomegranates. Its unique taste and strong flavor, with all the health benefits in it, come to ensure our dedication to quality and consumer satisfaction. Our pomegranate juice is rich in vitamins, minerals and essential micro-nutrients having a high antioxidant potential, higher than red wine or green tea.
Pomegranates used to make this juice are grown and harvested in accordance with the GC "Standard for Production, Processing, Labelling and Marketing of Organically Produced Foods". The fruits are cold pressed and bottled in unique, user-friendly glass bottles.             Good source of potassium, low in sodium, rich in vitamins and minerals pomegranate juice helps:
maintain healthy blood pressure
reduce dangerous LDL-cholesterol in blood
support the immune system and normal cell-growth
maintain healthy skin, teeth and gums
support the digestive system
keep a healthier and stronger body